Sheriff: Robert E. Fyock
Chief Deputy: Loretta J. Lentz
Sheriff's Office
Indiana County Courthouse
Third floor
825 Philadelphia St.
Indiana, PA 15701-3973
Hours: Mon-Fri 8am-4pm
Firearm License Unit
Mon-Fri, 9 am to 2 pm
Phone: (724) 465-3930
Fax: (724) 465.3937
Closed Holidays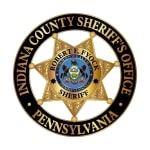 Duties of the Sheriff
To serve and enforce all orders of the Indiana County Court of Common Pleas.
To provide security and protection for the court of common pleas and court-related functions.
To transport prisoners to and from county, state, and federal correctional institutions for court appearances.
To enforce the Pennsylvania Crimes Code and Motor Vehicle Code.
To assist other law enforcement agencies in Indiana County whenever needed and in special law enforcement functions such as DUI Enforcement Checkpoints, Bike Unit, K-9 Units, and community events.
To serve bench warrants.
To serve civil writs.
To serve and enforce Protection From Abuse orders.
To enforce child custody orders.
To conduct levies, sales of personal property and real estate.
To issue Pennsylvania License to Carry Firearms and License to Sell Firearms.
To perform other duties as requested by the court of common pleas and the county commissioners.